I had the fortune recently to play a few shows with Lee Ranaldo as part of the Wooden Wand band. As a teenager, I idolized Sonic Youth, and listening to them probably informed by musical direction more than any other band. I adopted Fender Jaguars and cheap Japanese guitars. I made up random, dissonant guitar tunings and taught myself how to make songs with them. I created a unique musical language and technique that took me around most of the United States and a fair bit of Europe, all without touching a standard-tuned guitar. And all of it was because of Lee Ranaldo and his cohorts in Sonic Youth.
As a teenager, I imagined that one day I might be lucky enough to meet Lee. And as someone who was setting about to play music, it was remotely possible that I might at some point be get lucky enough to play some shows with him. But never in my wildest dreams would I have imagined I'd get to Instagram with Lee Ranaldo.
Lee was touring to support his first solo record, Between the Times and Tides, and had brought my other favorite member of Sonic Youth along, drummer Steve Shelley. Over the years, I've been able to meet quite a few of the people I've admired. And though it's easy to get starstruck or feel nervous around them, in the end they're all just people, busy with their own lives. Most of them are very nice, but I was not prepared for how genuinely friendly and warm Lee and Steve are. I have a hard time imaging two better people, both musically and as human beings.
The second night of our shows together, we were all passing time in a green room in Louisville, Kentucky. At some point, I asked Lee if the men's toilet was out of order and he suggested that I open the door and take a look.
"Oh man, this toilet is not happening" Lee examined, with a spaced-out Manhattanite's delivery. And then, with a childlike excitement that mirrored my own, "We should Instagram that!" So there I was, trading shots of a destroyed toilet with the man who had informed so much of my life.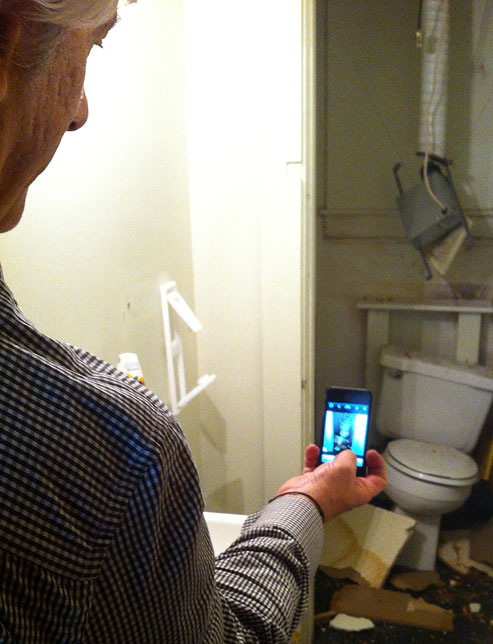 It was easily one of the coolest things I have experienced in all of my time playing music. The opportunity to share the stage with Lee was incredible, and something that as a teenager had been beyond my wildest dreams. But showing up on his Instagram was something entirely different. I am on Lee Ranaldo's Instagram, and a shot we shared is on mine. That is unbelievable.
The experience (and how undeniably giddy I got about it) made me think a lot about what makes a great web app. What is it that transforms a piece of software into something that users can call their own? If this had been an interaction on Facebook, or a mention on Twitter, would it have meant this much? Certainly not. I am a part of Facebook and Twitter, but my Instagram is mine. See, I did it again–my Instagram. Can the sense of ownership I feel be attributed to the inherent depth and immediacy of the photographic medium? Or is it simply the absence of advertiser interference? Why is this online experience something I see as a part of my life, while others are just things that I use? What is it that brings about such deep loyalty?
I can't offer a formulaic answer to any of these questions because I don't think one exists. But this recent episode with Instagram has led me to a few conclusions about what makes a truly great app (and I use that term loosely here to mean any focused online experience, not just apps):
Great apps create personal experiences
Great apps do one thing to its fullest
Great apps become invisible in time
Great apps become a reflection of you
Sadly, great app experiences are incredibly rare. Most are ruined by crudely-integrated ads, unrefined design, overcomplicated interfaces, and lack of focus. That's why when an app comes along that you can hold close as if it was your own, you never want to see it sold to Facebook for one billion dollars. But such is life.
Be sure to check out Between the Times and Tides. And go see Lee live if he comes to your city. He puts on a great show. Oh, and here are the Instagrammed toilets from Lee and myself.